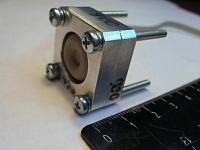 2014: renewed sensing element
The tests of a renewed compact-size sensing element for the MTSS-1033A accelerometer were finished. 
The newly designed sensing element has a smaller size, a higher frequency cut-off and a wider dynamic range. The redesigned MTSS-1033A accelerometer was also successfully tested and is currently ready for manufacturing.