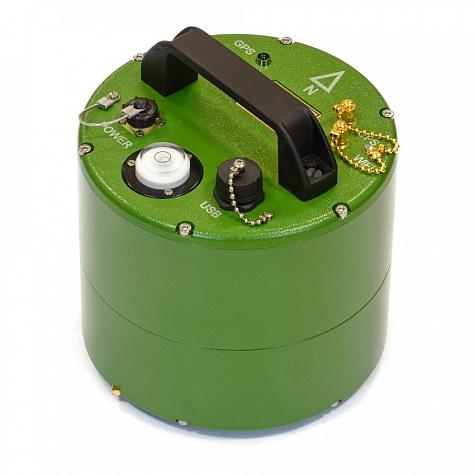 CME-4211ND is a digital 3-component broadband seismometer. The rugged case includes a broadband seismometer and a 24-bit autonomous data acquisition system. 
With its small size and light weight, easiness in operation, mechanical reliability and low energy consumption, this seismometer can be an irreplaceable instrument for field geophysical surveys. While equipping permanent seismic stations, a reasonable price combined with recordings of broadband signals of long-distance earthquakes will be attractive. 
CME-4211ND is excellent for structural health monitoring as a part of timely or permanent deployment systems. In addition to the standard version designed for field surveys, the seismometer is also available for boreholes of over 108-mm diameter.
Click here
for available downloads to operate CME-4211ND. If the FTP-connection fails, right-click to copy the link and open it with Windows Explorer.
| | |
| --- | --- |
| Frequency range | 0.033 Hz (30 sec) - 50 Hz |
| Sensitivity | 2000 V/(m/sec) |
| Clip level | 5 mm/sec |
| Self noise at 1 Hz | 8.9 nm/sec (17.8 µV) |
| Dynamic range | 112 dB |
| Nonlinearity | 0.5 % |
| Sensitivity axes | Vertical, North, East |
| Supply voltage | 12 - 24 V Nominal (9 - 36 V permissible) |
| Power consumption | 800 mW |
| Temperature range | -40...+55°C |
| ADC sampling rate | 1, 10, 50, 100, 125, 250, 500, 1000 Hz |
| Maximum installation tilt | ±15° |
| Case connectors | PC-10TB (russian made), USB-B, 2хSMA-F for Wi-Fi and GPS |
| Dimensions | 180 x 195 mm (diameter x height, including handle) |
| ADC resolution | 24 bit |
| Weight | 5.0 kg |
| ADC noise performance | 21.6 bits noise-free resolution at 100 sps |
| Gain coefficients | 1, 2, 4, 8, 12 |
| Case material | Aluminum |
| Data recording mode | continuous, schedule |
| Data recording format | internal binary; miniSEED, SEG converters provided |
| Data storage | microSD 32 GB |
| Data transfer | USB 2.0, Wi-Fi |
| Cross-axes sensitivity | -60 dB |
| Inbuilt sensors for device health monitoring | temperature, main supply voltage |
| Cold-start time | 5 - 15 min |
| Leveling, mass locking | none required |
| Delivery set | GPS antenna, Wi-Fi antenna, set of cables, bubble level, three legs |
| GNSS receiver | GPS / GLONASS |
| GNSS timing accuracy | < 1µs |