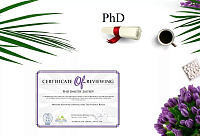 June 2020: R-sensors team gets knowledge and experience
Explorers of the R-sensors team are regularly improving their knowledge to provide you the best solutions based on high output parameters of our instruments. 

We are proud to announce 2 recent events. 

Anna Shabalina, electronics engineer, received her PhD in Physics and Math from Moscow Institute of Physics and Technology, Russia. Anna presented a thesis on 'The physical mechanisms for shaping frequency responses and self-noise generation of the miniature molecular-electronic motion sensors'. The thesis was devoted to studying output characteristics of molecular-electronic sensors and helped go deeper into the nature of their self-noise. 

Dmitry Zaitsev, lead explorer, PhD in Physics and Math, received a Certificate of an active reviewer of the 20-th International Scientific Conference on Earth and Planetary Sciences – SGEM 2020, Bulgaria. 

We congratulate our colleagues on these remarkable achievements and wish them growth in the chosen areas! 
Currently, 4 team members holding PhDs are working at R-sensors.