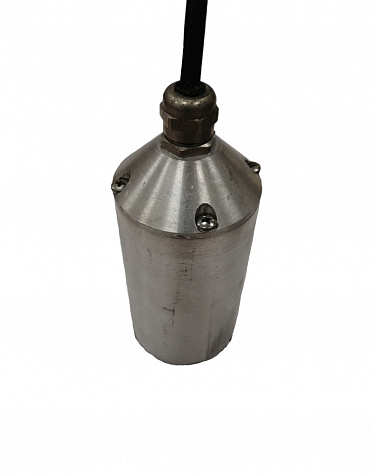 The MTAS-30 hydrophone is designed for marine seismic exploration, risk assessment for drilling platform installation in the sea and risk assessment for marine and coastal construction, water area security systems.

This model combines a small size and light weight with a high sensitivity of 500 µV/Pa. It differs from the analogs by a low self-noise in the bandwidth of 0.01 Pa.

The model is featured with a wide frequency range of 1-300 Hz.

It can be applied both independently and as part of ocean-bottom seismic stations and nodal systems for marine seismic exploration.
| | |
| --- | --- |
| Availability | on request |
| Frequency range | 1 Hz - 300 Hz |
| Sensitivity | 500 µV/Pa |
| Self-noise in the bandwidth | 0.01 Pa |
| Sensitivity axes | 1 |
| Temperature stability | 200 ppm/°C |
| Supply voltage | 12 V Nominal (10.5-16 V permissible) |
| Power consumption | 17 mA |
| Temperature range | -12°C - +55°C - standard range |
| Case connectors | customized |
| Dimensions | 105 x 45 (diameter) mm |
| Weight | 0.25 kg |
| Case material | stainless steel |
| Max. underwater depth | 30 m |
| Leveling, mass locking | none required |